LAURA BROCK – Set Designer, Art Director
Six-time Emmy Award-winner, Laura Brock has had a long and varied career in television, film and theatre as a production designer and art director. Her credits include Where in the World … and Where in Time is Carmen Santiago, Between The Lions, Johnny and the Sprites, Across the Universe and presently, ABC'S The Chew. Laura has brought Michael Frith's scenic concepts for No Strings to life since the beginning.
LISA BUCKLEY – Puppeteer, Lead Puppet Workshops Facilitator for No Strings International
Lisa Buckley has been a professional puppeteer for over 20 years. She has designed, built and performed hundreds of puppets for many of the top children's educational companies. She has performed on such well-known shows as Sesame Street, Alf, Blue's Room and Johnny and the Sprites. Lisa works with No Strings UK in the field and No Strings Productions in the studio. Yoga is her passion; she is a yoga instructor specializing in trauma.
CEILI CLEMENS – Head Puppet Wrangler, Puppetry Workshop Trainer
Ceili Clemens, a professional puppet artist of 18 years, is an alumna of the UCONN Puppetry Arts Program and the O'Neill Puppetry Conference. She has toured both nationally and internationally. Some of the many projects she has been involved with are: Arias With A Twist, Night Shade, Uncle Jimmy's Dirty Basement, The Adventures of Charcoal Boy, Between the Lions, Blue's Room, The Chapelle Show, and Addams Family: A New Musical. She is honored to be a part of the No Strings production team and the No Strings International outreach workshops.
DAVE CURTIN – Sound Mixer
Dave Curtin is a freelance New York sound mixer, specializing in documentary sound and of course puppets!
Chinese characters courtesy of Ecole Jeannine Manuel
LUKE GEISSBUHLER – Cinematographer, Director
Luke was the eye behind the acclaimed documentaries Buck and Helvetica as well as his science experiment film Space Balloon. Luke's feature work includes the infamous Borat, The Frankenstein Theory and the beloved Muppets' Letter to Santa. Luke received an Oscar nomination in 2012 for the short film Time Freak. He has been on the No Strings production team from the beginning.
ROB GRAYDON – Director, Editor, Visual Effects
Rob Graydon is a Filmmaker, Artist and Activist. A Cartoonist all his life, Rob became a filmmaker who creates films that often tackle socially conscious subject matter such as Bullying and Peace Building. His documentary film, Satyagraha, about nonviolent protest since Gandhi was screened at the Regal Cinema at ground zero on 9/11/06; it was the 100th Anniversary of Gandhi's first act of nonviolence.
MICHAEL KIRK LANE – Associate Producer
Mike has been with No Strings Productions since 2008 working in many areas over the years from financial and production, to social media and development. As a performer he has garnered two Manhattan Association of Cabaret Award nominations. He also works as a teaching artist, with students from pre-school to college, teaching theatre, music, puppetry and helping students to express themselves, and their ideas through art.
RICHARD TERMINE – Photographer
Richard Termine began working with the Jim Henson Company as a puppet designer and builder. While working on the set of Sesame Street in the mid-1980s, Termine began photographing behind the scenes. This work led to a new career as a performing arts photographer.
Termine also served as the Associate Director of the Jim Henson Legacy Foundation for three years. Since 1987 he has served as a trustee of The Jim Henson Foundation and is currently its vice-president.
From 1992 to 2001, Richard Termine was the Artistic Director of the O'Neill Puppetry Conference at the Eugene O'Neill Theater Center. Since 2002 Richard has coordinated the Emerging Artists Projects at the Puppetry conference.
FELIX TOD – Composer and Music Producer
Felix is a Bermuda based record producer and composer. He is best known for producing several Top 40 European albums for the artist, Heather Nova. He has also written music for many nature and wildlife documentaries for the BBC in London including the BAFTA winning film Amazon and BAFTA nominated Tribe series. His music has been featured on hundreds of TV programs and films worldwide.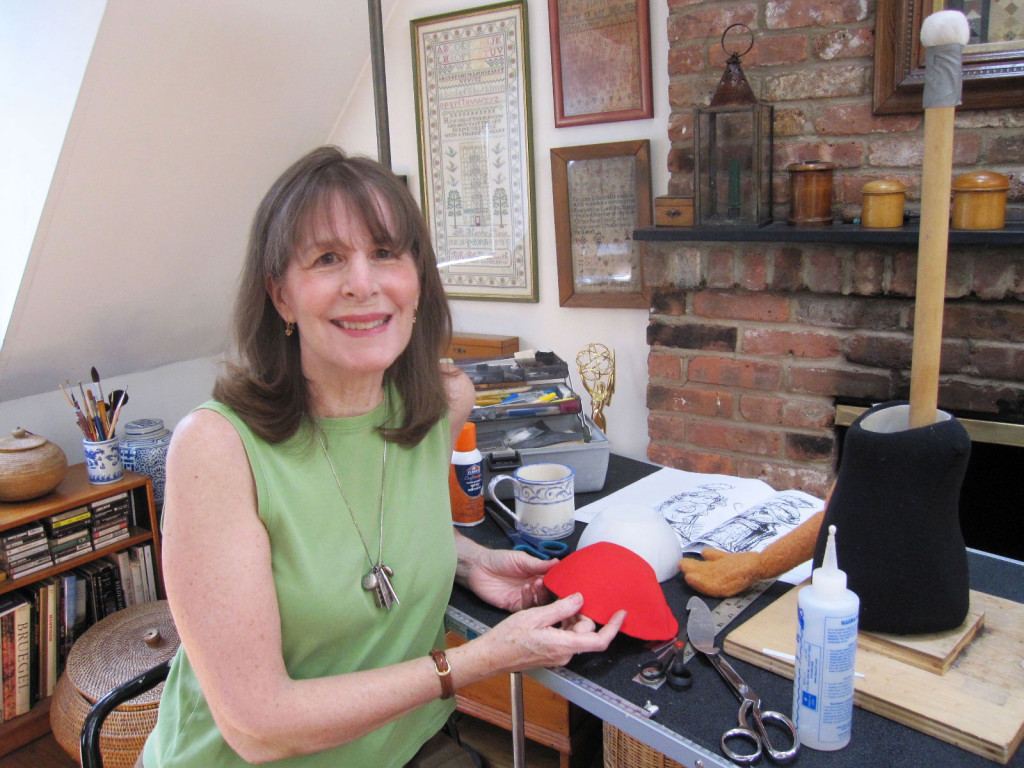 HENRI EWASKIO – Puppet Sculptor and Creator
Henri has been creating puppets and costumes for stage and screen for more than thirty years. She worked at the Jim Henson Company for many years and it was there that she first brought a Michael Frith drawing to life. Her countless stage credits include The Metropolitan Opera, Radio City, Tivoli Gardens, and many Broadway theatres. Film and television credits include Sesame Street, Dinosaurs, The Daily Show, Que monstro te mordeu [Brazil] and many Muppet movies. Henri has taught puppet building to underserved children in Havana, Philadelphia, and NYC homeless shelters, receiving the Mayor's Volunteer Service Award in 1997. She joined the No Strings team on their first production ChucheQhalin and is delighted to continue collaborating in this vital work. Henri also works with Little Ping Productions LLC. She built the puppets pictured to the left for a series of videos to teach Mandarin Chinese.
JAMES GODWIN – Puppeteer, Model Creator
James Godwin is a performance and visual artist and puppeteer. He is a founding member of The Elementals puppet company and creator of "Uncle Jimmy's Dirty Basement". His work has been presented all over NYC and beyond in such venues as P.S.122, Dixon Place, DTW, Franklin Furnace, LaMama and the Walker Art Center. He was a cast member of Henson Alternative's off broadway show "Stuffed and Unstrung". He has worked with Julie Taymor, Dave Chappelle, David Bowie and even Aerosmith. Film and T.V. credits include "I sell the dead", "Ice Age 2", "It's a Big Big World" for PBS, Saturday Night live, "The Daily Show's Wyatt Cenac" and the forthcoming "StakeLand." James' one man show, "Lunatic Cunning" was awarded a 2012 project grant from the Jim Henson Foundation, a Jim Henson Award for Innovation, the UNIMA-USA Citation for Excellence and shared the honor of "Best in Festival" At the Puppeteers of America 2013 Festival.
TIM LAGASSE – Director and Workshop Trainer, Haiti
Tim is a film maker, puppeteer, and designer / fabricator, whose credits include Sesame Street, Between the Lions, Oobi, Blue's Room, It's a Big, Big World, Chapelle's Show and Crash and Bernstein. He has also received three Emmy nominations for the short puppet films he created for Between the Lions. Tim has taught puppetry at the Lincoln Center Foundation, UCONN, the O'Neill Theater Center and traveled to Haiti with No Strings International as a puppet workshop trainer in 2012
JULIE LORUSSO – First Assistant Director
Julie is a director, AD, and stage manager with a broad knowledge of film and television production. She has worked with several networks including MTV, Oxygen, FUSE, VH1, Sprout, and Nickelodeon. Her recent directing credits include, the past six seasons of VH1 Classic's "That Metal Show", In Stadium Entertainment Director for the past six NBA All Star Games and for the 2014 Reebok Crossfit Games season; four of the worldwide regional's (North Central, North West, So Cal and Nor Cal) plus all the Update Shows at the CrossFit Games. 2015 Reebok CrossFit Games season included the five open announcements in Boston, Austin, Chicago, Portland & Las Vegas, three weeks of regional's in Dallas, San Diego & Minneapolis and the live ESPN shows for the CrossFit Games in Carson CA.
3 DESIGN STUDIO
JIM KROUPA – Principal Puppeteer, Director, Master Puppet Builder
JOHN ORBERG – Master Puppet Builder
Jim Kroupa, John Orberg, and Matt Stoddart are 3/Design Studio. Jim designs and builds puppets and specializes in mechanics and special effects. He is also a master puppeteer and puppet coordinator. Kroupa has been with No Strings from the very beginning and has directed a number of the films. John Orberg, designs, builds puppets and runs 3/ Design Studio. John has also been with No Strings since the beginning. Many of the lead characters were built by John and Jim, as are many of the specialty props. Matt Stoddart is a designer, costumer and builder. 3/Design has a myriad of credits including Between the Lions, Bear in the Big Blue House, The Book of Pooh, Eureeka's Castle, Johnny and the Sprites and Little Ping Productions.
POLLY SMITH – Costume Designer and Costume Builder
Polly has designed costumes for puppets for over 30 years. She has worked on just about everything the Muppets ever did from Sesame Street to The Jim Henson Hour, Muppets Tonight, Dinosaurs, Fraggle Rock, The Story Teller, Muppet Treasure Island and on and on. She has received numerous Emmy and other awards.
STEPH SOSA – Associate Producer
With a passion for producing content that positively influences children, Stephanie has worked on television and film projects as a segment producer, producer, production manager, assistant director and writer.  The programs she has worked on have appeared on ABC, KCAL, TBN, PBS, the Fusion Network, in film festivals and internationally.  Stephanie has also served as an international volunteer and has a certificate in childhood education.